washington - After a series of renewed talks between the U.S. and China leading up to Secretary of State Antony Blinken's expected visit to Beijing in coming weeks, experts said the two rivals need to come up with a plan to avoid conflict.
The talks had been stalled since February over a suspected Chinese spy balloon flying across the U.S.
The two countries agreed to 'open lines of communications,' said a statement released after Dan Kritenbrink, assistant secretary of state for East Asian and Pacific affairs, held talks with his Chinese counterparts on Monday.
Chinese Foreign Ministry spokesperson Wang Wenbin told reporters on Tuesday that the two countries held talks 'on improving bilateral relations and managing differences.'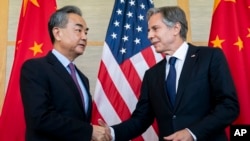 FILE - U.S. Secretary of State Antony Blinken, right, shakes hands with China's Foreign Minister Wang Yi during a meeting in Nusa Dua on the Indonesian resort island of Bali on July 9, 2022. Dan Kritenbrink, an assistant U.S. secretary of state, held talks with his Chinese counterparts on June 5, 2023.
The talks followed CIA Director William Burns' apparent secret trip to Beijing in May, first reported by the Financial Times on June 2, and national security adviser Jake Sullivan's meeting with his Chinese counterpart Wang Yi in Vienna on May 10-11.
'The United States and China are moving slowly and cautiously to restore normal dialogue channels between them with the goal being able to establish so-called 'guardrails' to prevent bilateral relations from careening off track and leading to confrontation,' said Evans Revere, who served as acting assistant secretary for East Asian and Pacific affairs during the George W. Bush administration.
'It's extremely important for Washington and Beijing to find a way to manage bilateral relations in a way that prevents misunderstanding, misperception and strategic competition from leading to conflict,' he told VOA via email.
The two nations are at odds over a range of issues, each seeing the other's demands as attempts to undermine its national interests.
Washington has been vocal about China's disregard for the rule of law, human rights and fair-trade practices. The U.S. has especially been keen on defending the right of passage in the Taiwan Strait against growing Chinese aggression.
Beijing says it has been respecting international law and accuses the U.S. of using the rule of law to undermine its sovereignty and advocating for human rights as a way to interfere in its domestic affairs. China claims Taiwan, a self-governing island, as its own and takes Washington's military presence in the region as a provocation.
Standing their ground
Hal Brands, professor of global affairs at the Johns Hopkins School of Advanced International Studies, said neither of them wants their differences to drive them toward conflict, but both are unwilling to relent.
'Both sides have reasons to keep the competition within bounds,' said Brands. 'Neither side really wants a war, for instance. But neither side is willing to retreat on issues it cares most about.'
He added, 'There is virtually no [chance] of a substantive improvement in U.S.-China relations in the coming year or so because differences on the key issues driving the competition - technology, Taiwan, trade, the balance of power in the Western Pacific and beyond - are nowhere near a resolution.'
Despite renewed talks between diplomatic and intelligence officials, military talks have not resumed, even as the two nations' defense chiefs believe conflict would be catastrophic.
Chinese Defense Minister Li Shangfu said at the Shangri-La security forum in Singapore on Sunday that 'a severe conflict or confrontation between China and the U.S. will be an unbearable disaster' and proposed 'seeking common ground.'
U.S. Secretary of Defense Lloyd Austin, while also stressing that 'conflict in the Taiwan Strait would be devastating,' told the forum a day earlier that he was 'deeply concerned' that China has been 'unwilling to engage' in talks 'for crisis management between our two militaries.'
While the top military chiefs were at the Shangri-La forum on Saturday, a Chinese navy ship made an 'unsafe' move on a U.S. destroyer navigating the Taiwan Strait with a Canadian frigate to demonstrate their right to navigate, the U.S. Indo-Pacific Command said on Monday.